Wednesday September 27 2023, 19:00
The Annex Central Plaza, Dame Street, D02 A3X7

Tickets on Eventbrite
AAI Conversations
The AAI are delighted to present a discussion with the curators of Ireland's national pavilion at the Venice Architecture Biennale 2023.
In Search of Hy-Brasil derives from an intense engagement with the islands of Ireland and is a direct provocation to all of us to reimagine the vast combined territory of land and ocean we call our home. Geographically remote and mainly peripheral to contemporary discourse, our islands are by necessity robust, resilient and inventive places. They have long been a significant crucible for language, music and song bound up with lived experience and support a rich and unique biodiversity. Their small communities, existing on the margins of viability, have embedded in their social order and cultural memory a deep knowledge and understanding of the ocean, land and resource management and the practice of maintaining sustainable environments. They've long thrived successfully and creatively with less while building and nurturing a rich and complex ecology.
We are an island nation facing an uncertain future. The challenges of climate change, renewable energy, ethical food production and biodiversity must be met quickly, with purpose, renewing the lost equilibrium between ourselves and the natural world. In making this adjustment, our islands' inventiveness in the face of adversity and creativity in response to having less provides us with the necessary tools and narratives to inspire more sustainable ways of living.
Ireland's national pavilion at the Venice Architecture Biennale 2023, puts our islands' diverse communities, culture and experiences right at the centre of the discourse surrounding our shared future. To the forefront of our imagination. The installation offers an immersive experience that shifts between the local and the territorial, the micro and the macro, to make explicit the implicit intelligence of these most remarkable of places.
Exhibition:
Responding to the theme, The Laboratory of the Future – selected by curator of the Biennale Architettura 2023, Lesley Lokko – In Search of Hy-Brasil presents fieldwork from Ireland's remote islands, investigating their diverse cultures, communities, and experiences.
In Ireland, myth, language and landscape remain intrinsically linked. The Irish language preserves the deep resonances that exists between humankind and the natural world. Hy-Brasil is a mythical Atlantic island that embodies the possibility for the re-imagination of the island of Ireland and its ocean territory.
The curators have studied the island landscapes of Inis Meáin (Inishmaan), UNESCO World Heritage site Sceilg Mhicíl (Skellig Michael) and Cliara (Clare Island) through drawing, survey, film, sound, model, mapping, and story. The installation will offer an immersive experience that draws connections between the social fabric, cultural landscape and ecology of these islands, shifting between the global and the local, the territorial and the intimate.
To raise awareness of the islanders' management of resources and their balancing of the delicate equilibrium between culture and nature, the installation will have a focus on renewable energy, ethical food production and biodiversity, capturing the islands' sustainable methods of livelihood through drawing, models, film, sound, writing and language.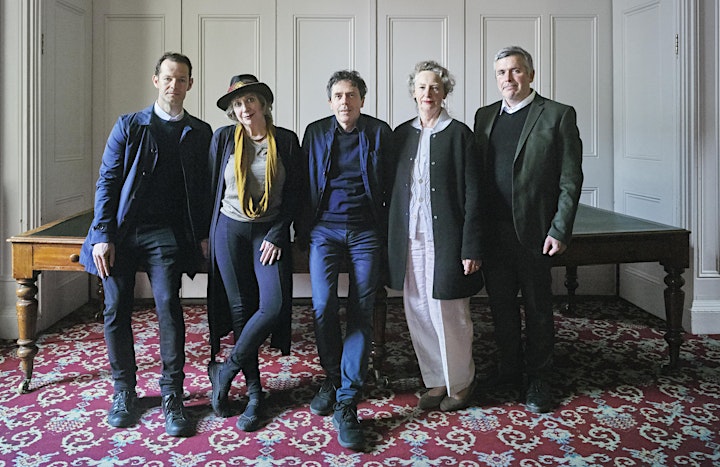 The Pavilion is curated by a team of five architects – Peter Carroll, Peter Cody, Elizabeth Hatz, Mary Laheen and Joseph Mackey.
Peter Carroll
Graduated from University College Dublin in 1995. He worked in the 6studios of O'Donnell + Tuomey in Dublin and Rafael Moneo in Madrid before establishing A2 Architects in 2005. He is Director of A2 Architects and Head of Architecture in SAUL (School of Architecture University of Limerick.
Peter Cody
Graduated from the Dublin Institute of Technology in 1990, completed a master's degree in architecture at Columbia University, New York in 1996 and a PhD at RMIT University, Melbourne in 2018. He worked in the studio of Alvaro Siza in Porto before establishing Boyd Cody Architects in 2000. He is currently a Director of Boyd Cody Architects and assistant professor at University College Dublin. He exhibited an interpretation of the work of Eileen Gray at the Venice Biennale 2018 and previously exhibited at the Biennale in 2012 and 2006 with a focus on the depleted boglands of the Irish Midlands. He was Co-Curator of 'Line to Surface' at the Inaugural Lisbon Architecture Triennale 2007 with Peter Carroll.
Elizabeth Hatz
A practicing architect, professor and art curator, her time is sharred between practice, research and teaching positions at UL and KTH Stockholm. Built work includes Kodak Head Quarters Gothenburg, Stockholm Globe Arena and buildings for AKSO-Nobel, Stockholm. Hatz curated EVA 2010, Ireland's pre-eminent art event. The head of SAR (Swedish RIAI) she cofounded Fargfabriken, renowned scene for Art and Architecture in Stockholm, where she is a board member.
Mary Laheen
Graduated from University College Dublin in 1981. She worked with de Blacam and Meagher Architects before establishing a practice in Dublin in1995. She is the author of various publications related to cultural landscape, and represents Ireland on the International Scientific Committee on Cultural Landscapes, ICOMOS. With Aoibheann Ní Mhearáin, Architect, she exhibited 'Landscape and Lens' interpreting the work of Jean Rénaudie at the Venice Biennale 2018. Mary has had a lifelong engagement with the islands of Ireland, in particular the drystone-wall field-boundary landscape of the Aran Islands. The nature-culture dynamic of the islands has informed and inspired her work in the practice and teaching of architecture.
Joseph Mackey
Graduated from University College Dublin in 2010. He worked with the Renzo Piano Building Workshop in Paris, Tom de Paor in Dublin, Eric Parry Architects and Niall McLaughlin Architects in London, before establishing Joseph Mackey Architects in 2015. He is a director at Joseph Mackey Architects and a senior lecturer at Cork Centre for Architectural Education. Joseph's work has been exhibited at RIBA gallery in London 2010 and the Tallinn Architecture Biennale 2022.